Biography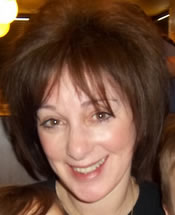 My name is Bonnie E. Crowe, M.Ed. and I am the President of Day Care Consultant Services, Inc. Welcome to my web page! I hope that you find the material interesting and motivating and will respond with comments or questions.

I was born in the steel mill town of Aliquippa in Western Pa. I attended Kent State University, and graduated from Point Park College with a degree in Early Childhood Education. There, I was given the gift of taking a class taught by Maria Montessori's granddaughter, did an internship with Mr. Fred Rogers, and became extremely interested in art therapy through one of my professors, Dr. Judith Rubin. I also had internships at Western Psychiatric Institute working with severely disturbed three and four year old children. Many modalities were utilized in their therapy. Dance therapy, art therapy, drama, blocks, and other nonverbal methods of reaching children. I also had internships at Pittsburgh School for the Blind and an internship with Easter Seals. I worked for Pittsburgh City Schools as a lead Kindergarten teacher.

In 1970 I moved to Atlanta. Here I taught Kindergarten and first grade for Atlanta City Schools. I attended Mercer University where I received my Masters Degree in Early Childhood Education. All of the above teaching experiences were with preschool or the early elementary education level. After having my first child, I began teaching evening Adult Education courses for Child Care teachers at Dekalb Technical Institute / Georgia Perimeter College. I was a lead instructor for all evening classes for 14 years.

In 1985 my students, who consisted of teachers, directors, and owners of child care centers talked me into coming on site to their facility to train and educate their staff. Eventually, building through word of mouth, I was able to schedule sufficient classes to make this a full time profession. I developed an on-site training company working throughout metro Atlanta and the state of Georgia. I have also trained staff in Florida, Alabama, North Carolina, and South Carolina.

I am the President of the company, do extensive current research for all courses taught, and teach all courses myself. I am willing to come to any center in any part of the state or nation (with a predetermined minimum amount of staff). Many schools, over the past 19 years, will book their training as far as two years ahead of time.